Driveline parts / components and complete drivelines.
Driveline parts, we supply driveshafts for all brands and vehicles. Largest stock of driveline parts. Fast delivery to any location in the world.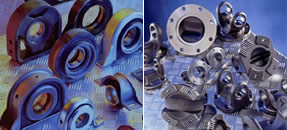 Bakkeren Nederland offers parts for driveshafts and complete driveshafts for many applications such as, Trucks, Heavy & Light Industry, Agriculture, Off shore, light commercial vehicles, etc. Bakkeren Nederland operates on the OEM market and on the Aftermarket.
We have an impressive stock, including Volvo, Scania, Mercedes, MAN, DAF, R.V.I., Iveco etc. for drivelines, components and universal Joints for all European quality makes. We deliver all famous manufacturers.
Parts like: weld yokes, flanges, sleeve and stubs, yoke shaft assemblies and many, many more.  As you can see we provide you with a full range for driveshafts and components for driveshafts.
We can work with chassisnumbers, OEM numbers, dimensions or all other data you can imagine. We are able to convert all these numbers into our own.